Our Products are optionally available with QA Certification from UL, ATEX, OEML etc.
Quality at APLAB is a part of our people's attitude. Entire organization is committed to create an environment that encourages individual excellence and a personal commitment to quality. In APLAB, "Quality is everybody's responsibility" and all strive to "do it right the first time". It is therefore natural that APLAB Limited is certified for quality with ISO 9001:2015 registration.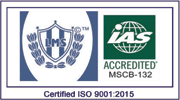 We are committed to adhere to and consistently improve upon a proper system and processes to achieve customer satisfaction. We embrace a quality policy with an emphasis on prevention rather than cure.
Our strategies are :
Quality parameters are set right at the beginning.
All deliverables are complete, correct and on schedule.
The entire development is process driven.
Customer Delight.